Welcome to the,
Phoenix Police Athletic Club

Website

Highly-professional Phoenix Police Officers who share a common interest in fitness.
Our website provides a forum and means to share this goal with others.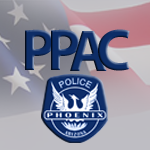 If you are looking for a great resource to meet other like-minded, fitness oriented Phoenix Police Officers, then this is the group for you!
PPAC is constantly hosting fitness events around the state of Arizona to encourage fitness within the Phoenix Police Department and provide a great forum for these officers to meet and participate in various fitness events.
Are you ready to be a PPAC member?

You can join or support the Phoenix Police Athletic Club by contacting us via email and expressing your interest. We look forward to hearing from you!